I've had all kinds of problems with them over my xmas order i made and i just recieved it.
I made my order on boxing day morning and everything showed as in stock. All orders were processed on the 4th jan, first come first served basis. I know for a fact that people who made orders after mine have recieved them!!! Grr!
My goods that were out of stock came to about £50 (around half my order!!) and most of the things i made the order for. Grr, not impressed.
So i've now spent my refunded money to cheer me up :)
I bought some used stamps off ebay a stamping bella one, 2 kraftin kimmies & an elzybells one and i've just ordered a few sugar nellies from funky kits as they have 10 sugar nellies half price (didn't buy the full 10 tho! lol)
I'd also gotten some decoupage sheets forever friends ones for half price and some mr men ones :) I've bought the new honey & hugs paper pad & decoupage set from papermania too (still waiting for the decoupage tho)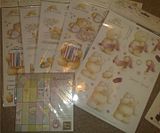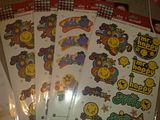 So i'm quite happy with my purchases :)
It's my day off today so i have some tidying and crafting to do :)
Have a nice day xx